BUSINESS AND FINANCIAL INFORMATION
Artificial Intelligence must be the engine that allows us to drive the change towards a more sustainable and efficient economy. With this idea in mind, Substrate AI's entire business model is based on the development of SaaS AI solutions in sectors such as Health, Agritech or Human Resources, marketed in those ways that allow us to be more profitable and offer services more focused on our customers.
BUSINESS INFORMATION
BUSINESS MODEL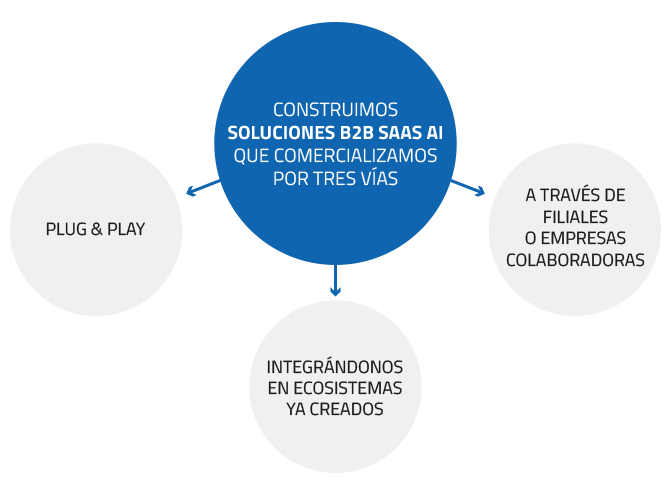 MARKETING SECTORS
WE APPLY OUR TECHNOLOGY WHEREVER WE FIND A PROBLEM TO BE SOLVED, AN APPROPRIATE DATA GENERATION AND A BUSINESS MODEL THAT MAKES SENSE.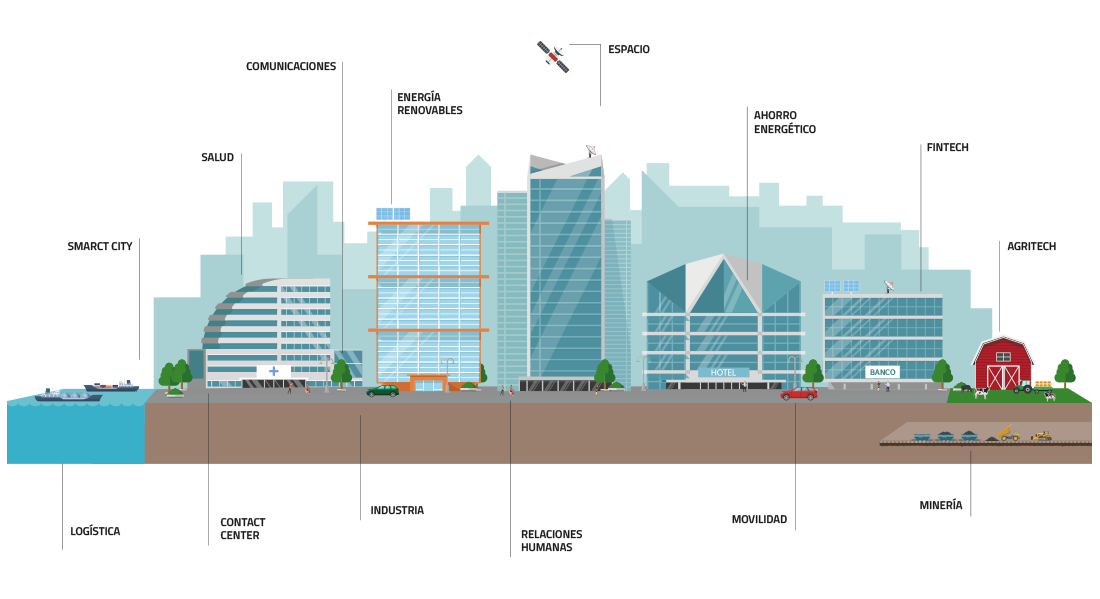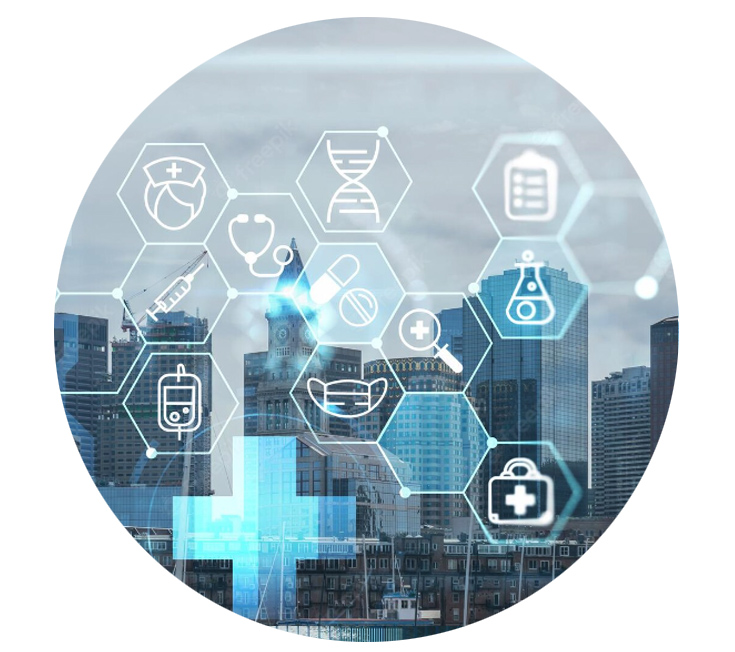 CONSOLIDATE OUR LEADERSHIP IN THOSE SECTORS IN WHICH WE ALREADY OPERATE
Substrate AI is present in sectors such as Agritech, Fintech, Healthcare, Energy and Human Resources where it is positioning itself as a market leader with high quality AI products and services.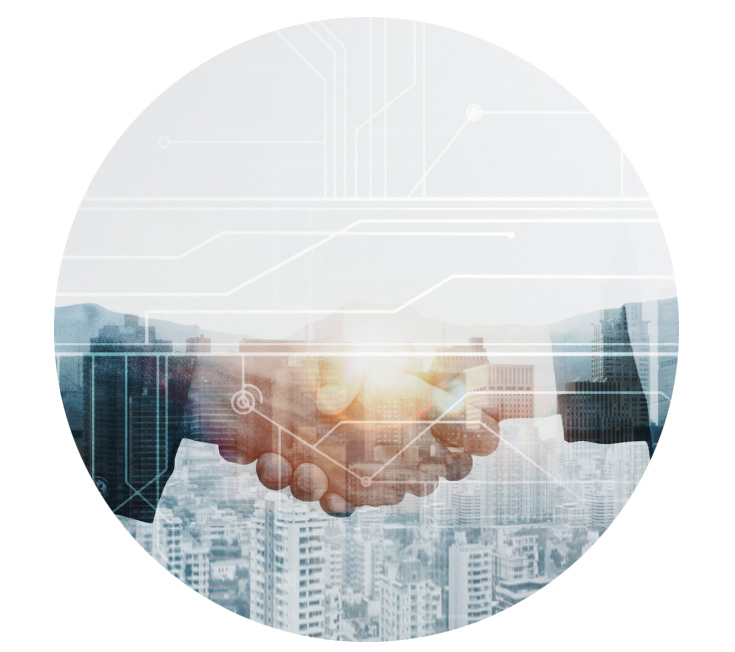 TO STUDY TOGETHER WITH FIRST LEVEL PARTNERS ANY OPPORTUNITY TO ENTER NEW SECTORS AND BUSINESSES
We believe in collaboration between companies as a principle and as a basis for growth. That is why every day we talk to major players in new sectors in which we are not present in order to detect new possibilities and develop them together.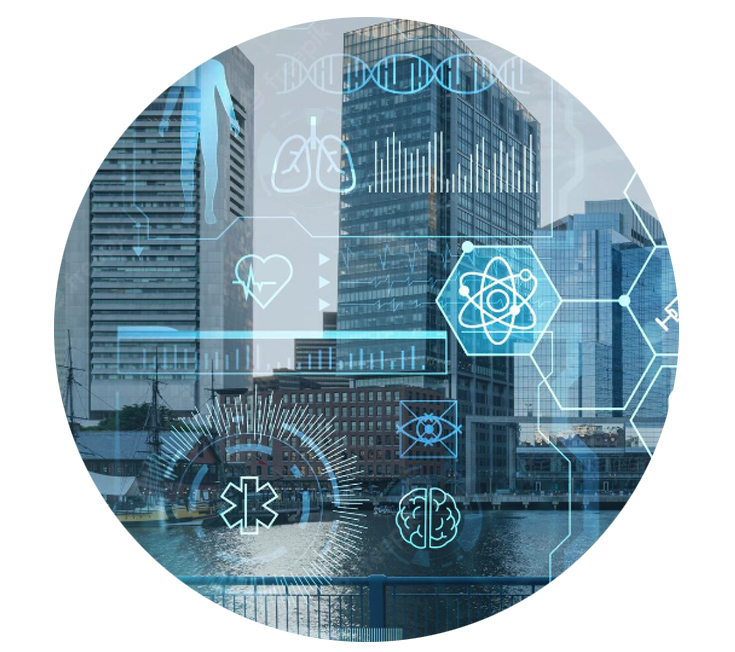 COLLABORATE WITH UNIVERSITIES IN EUROPE AND THE US FOR THE DETECTION OF TALENT, THE DISCOVERY OF NEW USE CASES FOR OUR TECHNOLOGY AND THE LAUNCHING OF START-UPS AROUND THESE IDEAS.
The detection and empowerment of talent at all levels is part of our DNA, as well as the vocation to promote new businesses that grow around the application of our technology in new use cases. To this end, we collaborate with universities in Spain, France and the USA, such as the Resenlaer Institute in New York (USA), the Aivancity University in Paris (France) and the University of Valencia (Spain).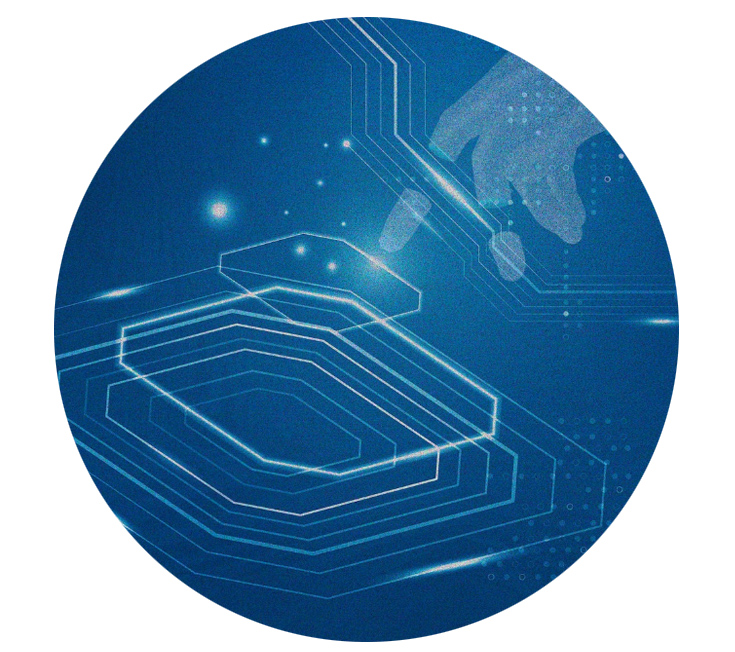 CONTINUE TO DEVELOP OUR IA TECHNOLOGY IN ORDER TO OVERCOME THE CHALLENGES FACED BY ARTIFICIAL INTELLIGENCE.
Artificial Intelligence faces technological and ethical challenges such as algorithmic bias, black boxes or the application of solutions in data-poor environments. At Substrate AI we work every day to solve these challenges from all possible angles and prepared to offer appropriate solutions to our customers.
FINANCIAL INFORMATION
EVOLUTION OF REVENUES AND EBITDA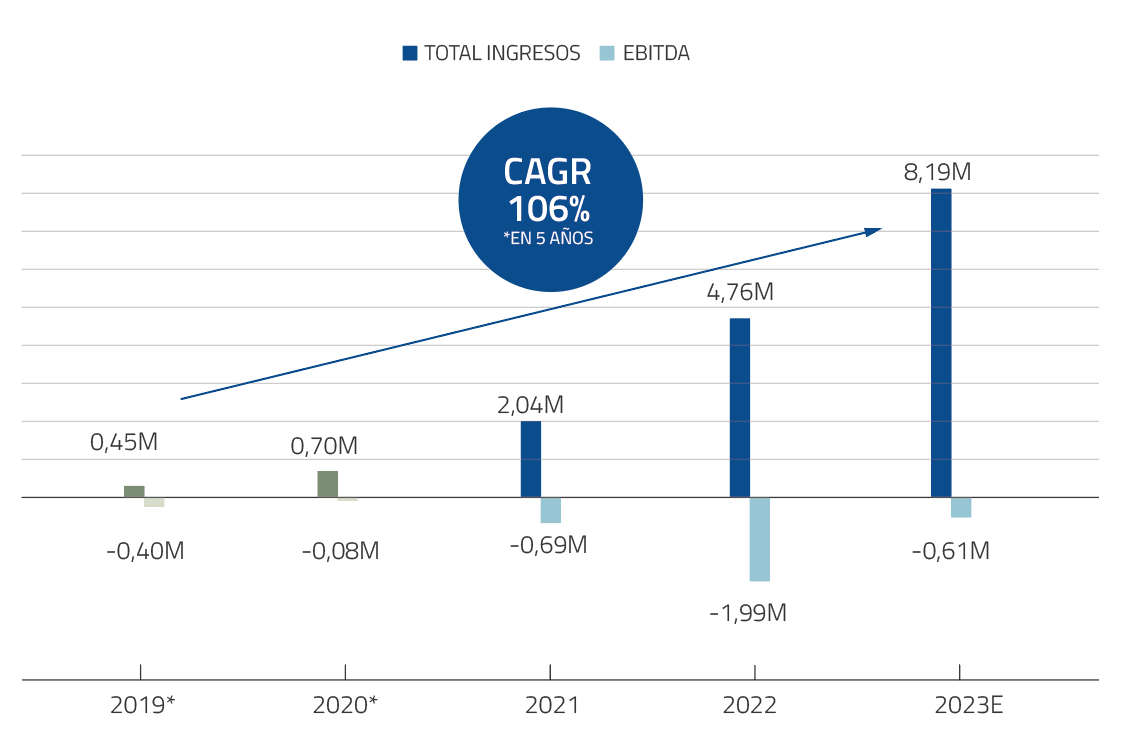 *In 2019 and 2020 the company was called Zona Value S.L., from 2021 onwards it was renamed Substrate AI S.A.
Between 2019 and 2022 the company grew by 787% from €450,000 turnover to €4,760,000 and becoming what Substrate AI is today, a group of companies around artificial intelligence. This growth is maintained in the estimates for 2023, resulting in a CAGR of 106% in 5 years.
BUSINESS INFORMATION
NEWS HIGHLIGHTS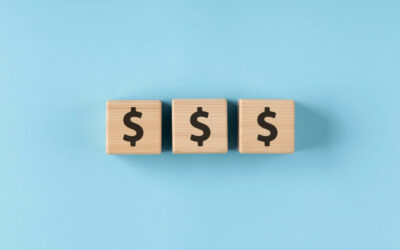 VALÈNCIA (VP). Substrate AI, the artificial intelligence company listed on the BME Growth, has closed 2022 with a revenue growth of 1.5 million euros....
read more
SPAIN (CENTRAL)
C/ María de Molina, 41
Office 503, 28006 Madrid
C/ Correos, 10 - Pta. 7
46002 Valencia
USA
706 Gunsmoke Dr. Bailey
Colorado 80421