E&Y estimates that the financial technology industry represents a market valued at €10.2 billion with a compound annual growth rate of 30 % from 2021 to 2026. This clearly shows that financial technology is one of the fastest growing industries. Artificial intelligence (AI) can have several business applications: early fraud detection and prevention, predictive analytics; better risk management; helping managers make informed decisions, reducing paperwork and processes, etc. At Substrate Artificial Intelligence, we are focusing on customer acquisition and customer experience improvement. We know these two business segments as most of our team has been working in this field in the fintech industry for several years. As we worked in the industry, we noticed the same pattern repeating itself, the lack of data. We came to the conclusion that companies need external help. Of course, about 80-85 % of them use data management. This is a positive first step, but it is often unlikely to significantly reduce costs or markedly improve customer acquisition. The use of AI/ML (Machine Learning) is one solution, although unfortunately only 5 % of companies use it.
Therefore, most of the time, fintech companies have no choice but to spend too much on sales and marketing for customer acquisition. These companies often face high labor turnover, which also generates costs. With market conditions becoming more complicated (economic downturn, widespread high inflation and tighter financial conditions) and more regulation and competition, we believe that fintech companies, regardless of their size and how much they have raised in funds in recent years, will increasingly focus on technology solutions to reduce costs and improve efficiency in operation in the next 1 to 2 years, which is the likely duration of the ongoing crisis.
Reducing customer acquisition costs and increasing customer lifetime value
At Substrate AI, we offer a unique bio-inspired AI-based technology solution for fintech companies. To find the best (i.e. most profitable) customers in a huge and changing market to reduce customer acquisition costs (CAC) and increase customer lifetime value (CLTV), we created the perfect solution. Our technology adapts to find the best customers in a changing market where the ability to be the first to find a new customer niche is the key to long-term success. Our technology operates at a different level by being able to process big data at a scale that even huge sales teams cannot achieve.
This is how we proceed. First stepWe enrich your CRM with relevant information (habits, social networks, preferred devices, for example). Second stepWe improve the data of your target customers to increase the probability of sales success. Third step: we find them where they are. Our AI marketing tool helps you target your campaigns to the most valuable customers and increase your returns by maximizing engagement. Step four: once this is done, you can decide to cut costs and get rid of oversized sales teams that often represent a major expense within the budget. At this stage, it is our clients' decision.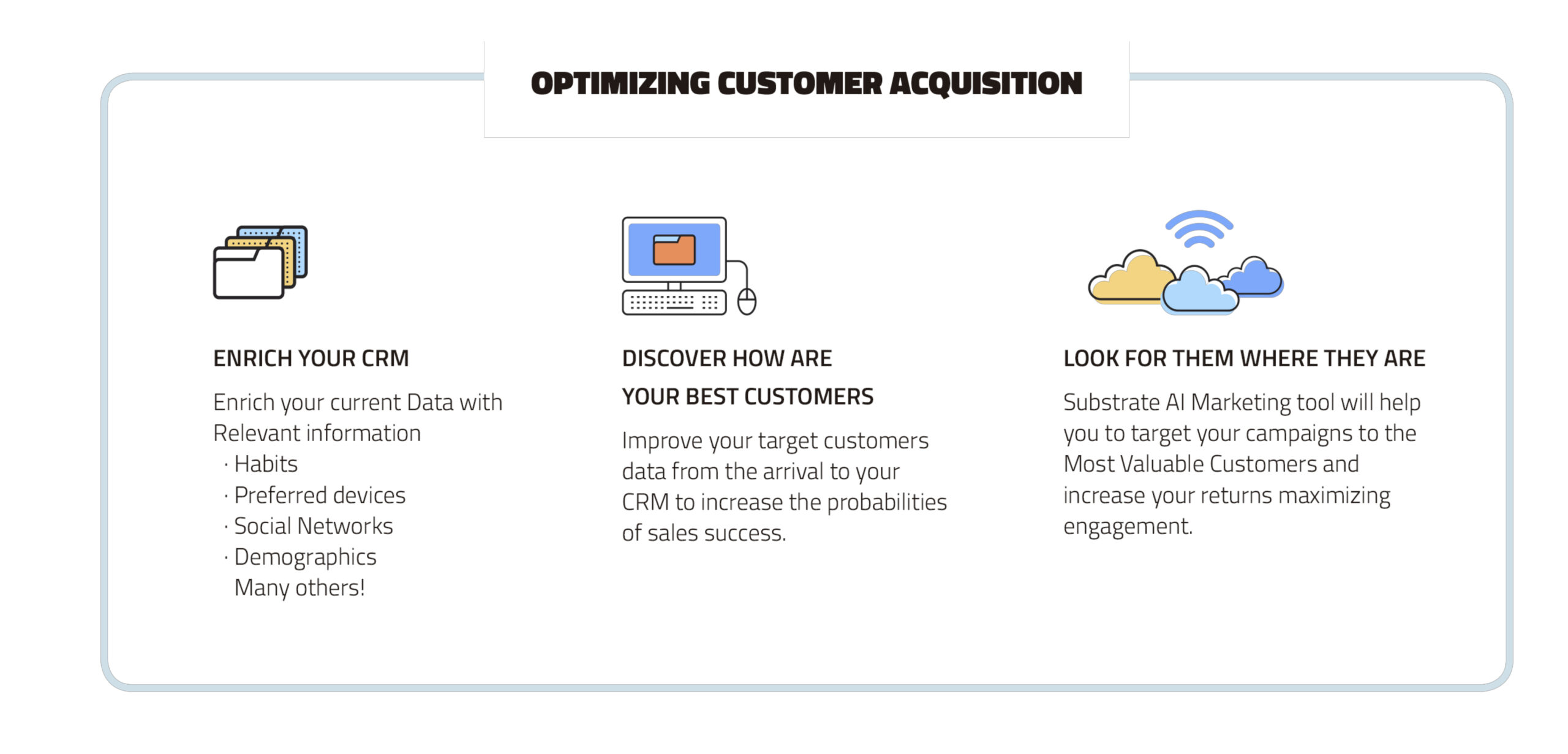 Building ethical AI for the fintech industry
We understand that the success of an AI transformation business process depends not only on the technology but also on the human factor. Acceptability is key. It is also important to create ethical AI. Our customers give us access to highly sensitive data to create AI tools that fit their needs. We have a responsibility to handle it with caution.
The core values at Substrate AI: security, transparency, shared benefit, shared prosperity and financial inclusion.
We have partnered with Aivancity School for Technology, Business & Society (France) to introduce internal processes that protect against unwanted biases in machine learning algorithms, continuously detect drift in data and algorithms, and track both the provenance of data and the identity of those training algorithms.
We understand that companies face several challenges ethical challenges in the use of AI technology. This is how we work with our customers:
Transparency and acceptability. We work hand in hand with our customers to ensure that they understand the complex chain of algorithmic systems and data processes and the competitive advantages they offer. We believe that a high degree of traceability is key to success.
Responsibility. We always try to find the right balance in business cases where our AI technology can be safer and more efficient than human activity.
Justice. We ensure that there is no bias in terms of race, gender or ethnicity.
Misuse. We introduce security measures to prevent our technology from being used for purposes other than those for which it was created.
EXAMPLE: BUSINESS CASE - B2B - IBANFIRST
Ibanfirst is the main European leader in multi-currency B2B payment services initially based in Belgium. This is a unicorn in the making, in our opinion.
Main objectives of the current project:
Target medium and large companies with around 500 employees or less.
It takes 99 leads to close a single sale, which is a very costly CAC (large sales teams and high marketing expenses).
The initial focus is on five main markets: France, Germany, the Netherlands, Belgium and Hungary.
Our approach :
To improve the CPA, we are creating an API with the scoring result for companies that are uniquely identified by VAT and providing Ibanfirst with the best time to contact them.
We have provided a blobs storage space for secure sharing of customer data. This is important given the sensitive data we access.
Creation of a database to track the success of the AI system.
The joint project is at an advanced stage and initial results are very encouraging. We are also working with other large European financial technology companies, especially in B2C, with a focus on CLTV optimization (in order to propose to current and potential customers the best financial product options for them).
Author: Christopher Dembik (Substrate AI Advisor)